St. Philip Neri students 1st -8th grade participated in "Pray Walk Talk" last week.  The event was comprised of three segments:  prayer and reflection, exercise and communication.
St. Philip Neri School's Pray Walk Talk
The experience began on a perfect fall day in the school parking lot with an introduction by Community Faith Nurse, Angie Tomlinson, R.N,  "As a school, we strive to nourish our students' mind, body and spirit.  Our Pray Walk Talk retreat gives students an opportunity to incorporate all these aspects into one activity."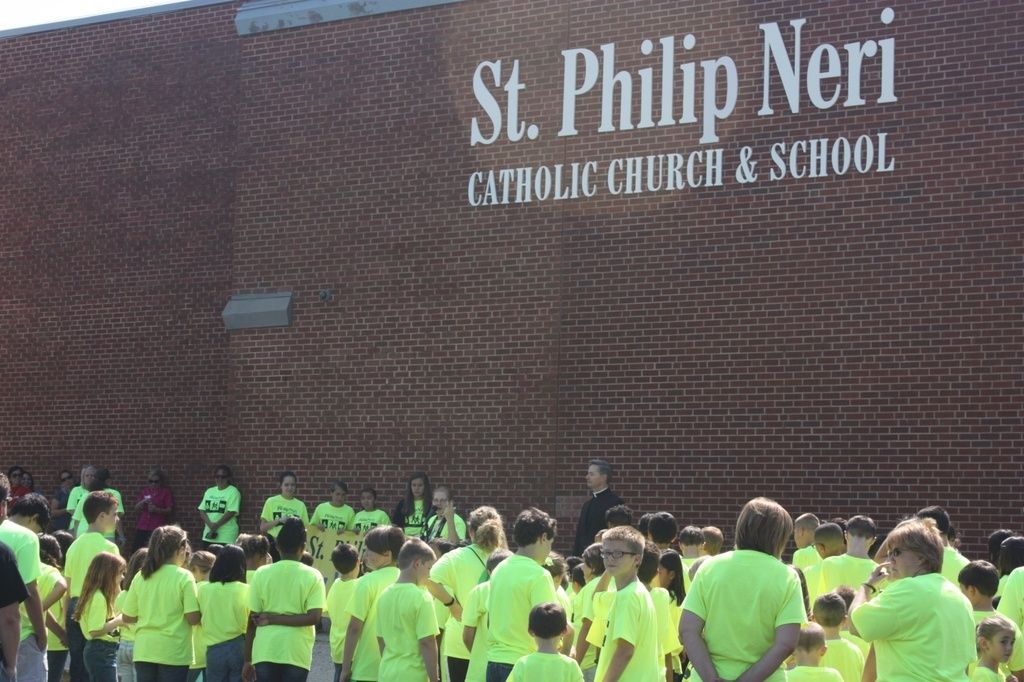 (Community Faith Nurse, Angie Tomlinson, R.N. addresses Student Body.)
Father Fuller then provided his blessing on the student body urging the youth to challenge themselves, "May we adjust to the physical challenge, but also to experience other things as well, that we may experience time, geography, and distance differently."

(Students listen as Father Fuller administers his blessing.)
The walk was lead by student leaders carrying a banner which read, "Walking Together with Scripture".  The ¾ mile jaunt to Kiwanas Park was sentimental to Principal Tener, "This was the same walk I took to school regularly and the park I played in as a child.  I believe it's important that I share my life's path with the students so that they can better understand what it takes to become a disciple because, ultimately, we are teaching all of them to be disciples."

(The parade of students, teachers and parent volunteers were led by 8th graders
[from left to right] Aubrie Lopez, Micaela Borrego, Jocelyn Suarez and Joy Warlick.)
Along the way, community support was made known.  Midwest City Police Officers provided a safe escort at the main street crossing.

(Under the guidance of MWC Police, teachers and parent volunteers,
the procession of walkers were kept safe from traffic.)
Halfway down the road, Klondike, HeathCARE Express' mascot, cheered on kids with high-fives and hugs.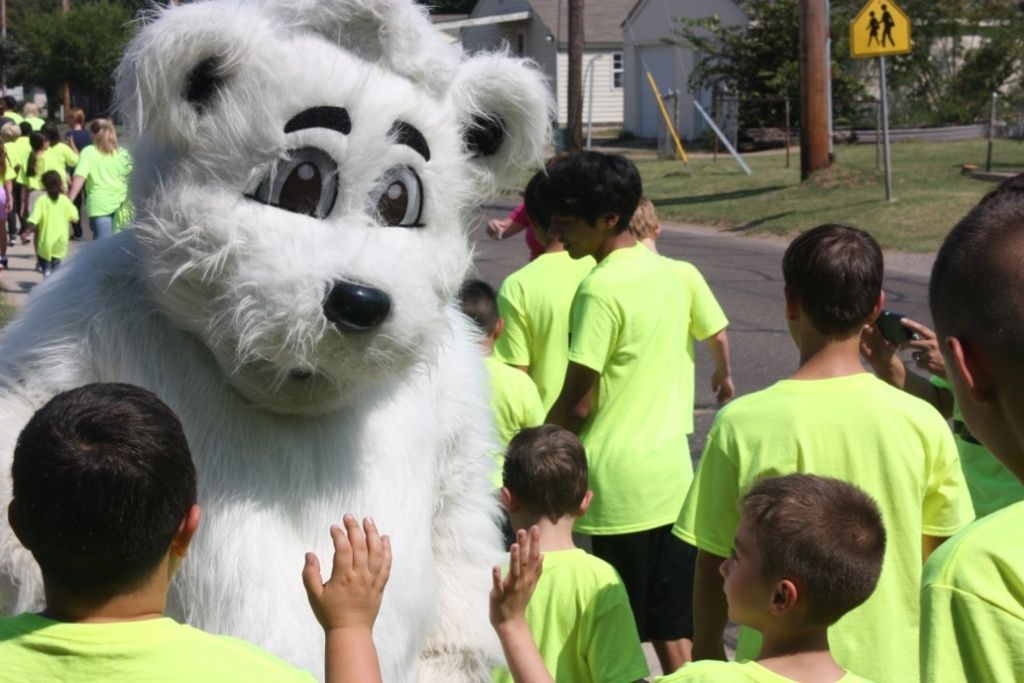 (St. Philip Neri enjoys working with local businesses and developing successful partnerships.)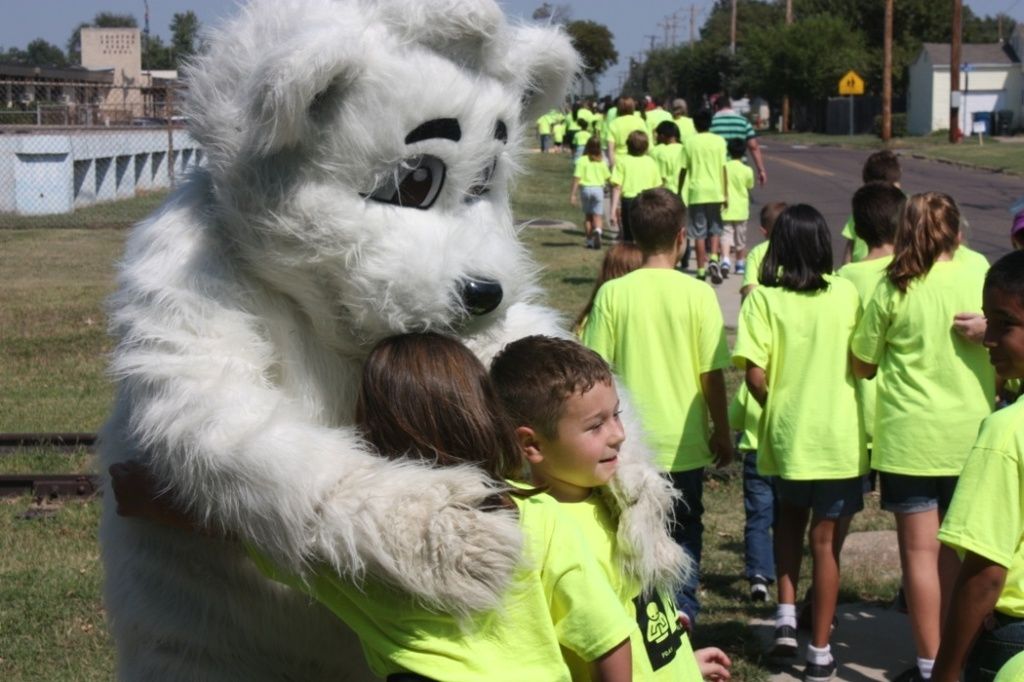 (Hugs for everyone including 1st grader Aiden Henry.)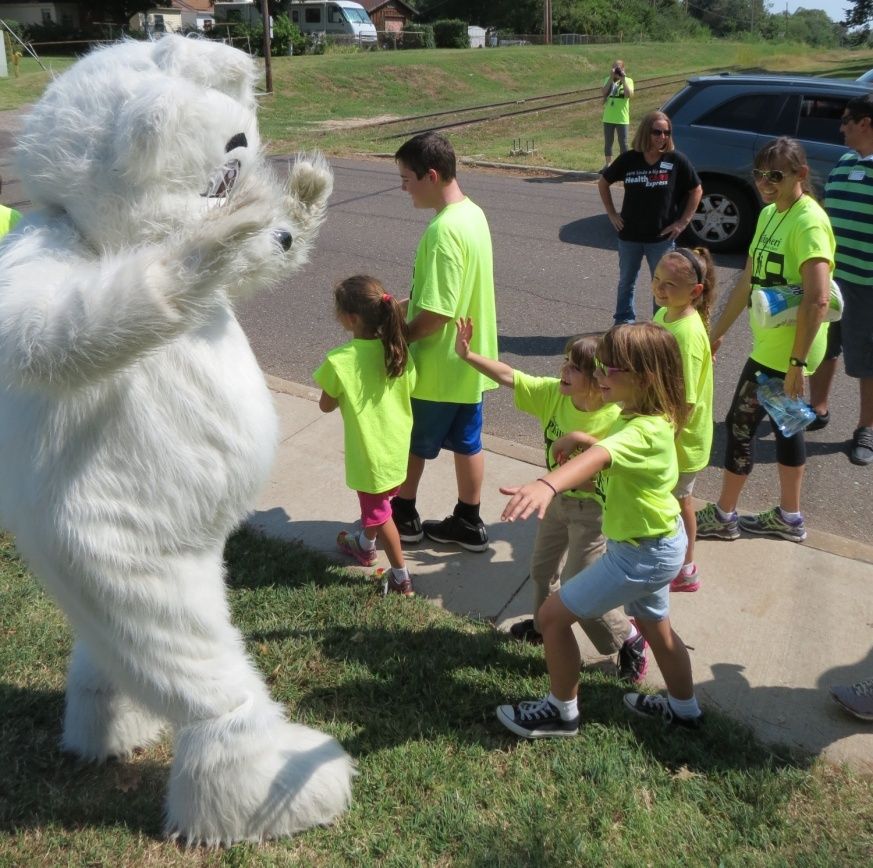 (2nd graders Alexis Whittington and Ella Burdette also received their furry embrace.)

(Principal Tener also poses with Klondike.  Thumbs up for a great event!)
Members of Midwest City's Fire Station 6 also got in on the fun.   Firefighters were on standby at the park to show off their truck and even allowed students to manage a hose at full-throttle.

(Firefighters [left to right:  Garrett Matlock, Brad Spiva and Eugene Sateren
of MWC Station 6] pose with 1st grader ,Avery Hilton)

(The firefighters answer questions from 1st and 2nd graders.)

(8th grader, Josepf Homola takes aim as Firefighter Saterem assists.)
Children were also able to relax in the park pavilion with snacks and water courtesy of the school's PTO.  Healthy options were presented to help teach the children to make the right choices in diet.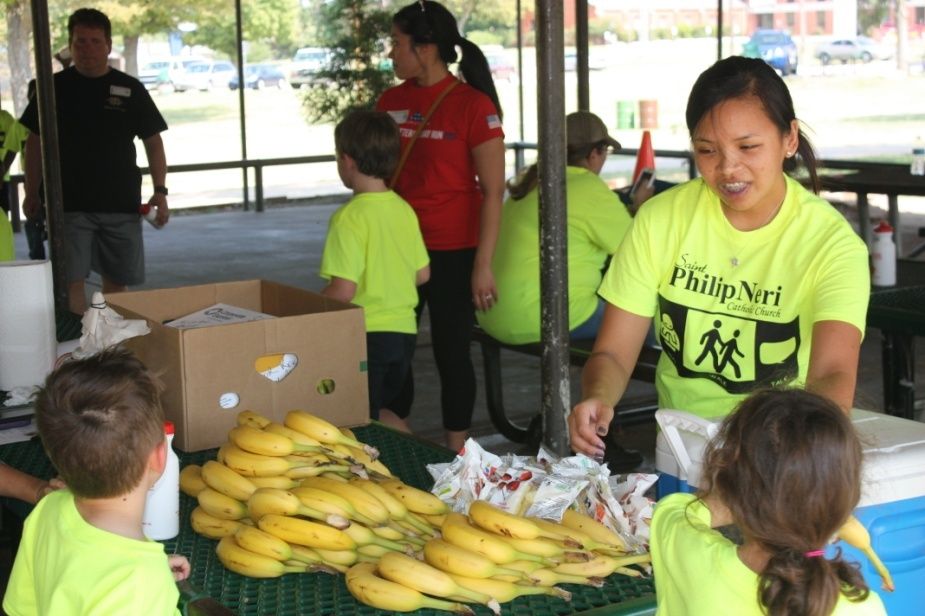 (PTO President, Christina Seunath, was on hand with other volunteers to distribute healthy snacks to the children.)

(Plenty of water was available courtesy of HealthCARE Express.
5th graders Baylee Melot and Denay Bendleton show off their water bottles.)
After refreshments, Youth Group Director, Frank Cleary led scripture retreats with various age groups. Cleary proclaimed, "You are unique in your own body. This is the body God has given you.  Take care of it."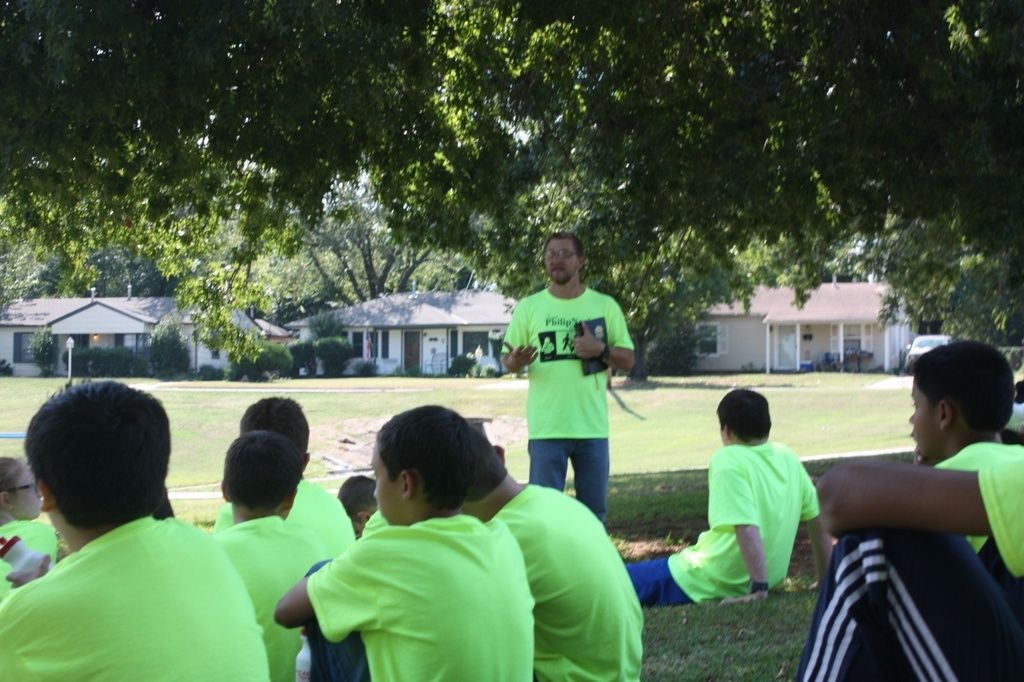 (Celebrating his 10th year of SPN Youth Ministry, Frank Cleary professes scripture to students.)
Kids alternated between the scripture retreat and playground.

(1st grader, Lily Fairchild, takes advantage of the park swings as her choice of exercise.)
Between all the activities of the day, kids did find time for fellowships.  St. Philip Neri is very proud of the bonds we create, some last a lifetime as we continue they continue to Pray Walk Talk.

(1st graders Rylan Nguyen and Ethan Barklow embrace for picture.)